Welcome to my first Share and Tell blog for 2019.  I have a very special story that I would like to start with because it brought so much joy to my heart hearing how my How to Make Doll Clothes course has helped multiple generations enjoy the craft of sewing.  The following is part of an email that I received from Cherrylmaree, one of my very first customers and whom I now consider a dear friend.
'Hi Rosie,
I'd like to share with you a couple of things that have been happening here. I just wanted to let you know that following your videos and tips has helped my granddaughter to learn how to use a sewing machine and translate that into making toys and pyjamas for herself. It has been a huge confidence boost for her.  She's not big on dolls but her sister is very keen and has recently bought herself an Australian Girl (so she can dress her).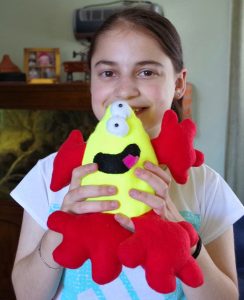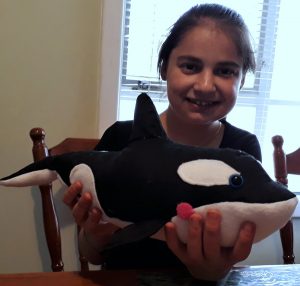 Last weekend my grandson, who is 20, asked me to help him make a memory toy for his mother who recently lost her little dog. I found the way you breakdown the process so helpful in showing him what to do and he was very happy with the result. These shared hours are priceless.
Very best wishes,
Cherrylm'
How awesome is that!  Cherrylmaree, thank you so much for sharing this gorgeous story with me.  The bond and memories you have created with your grandchildren through sewing are truly special.  You can see the pride and confidence beaming from your granddaughter's face – she's done a fantastic job and I can see that your grandson has a beautiful heart to do something so special for his mum.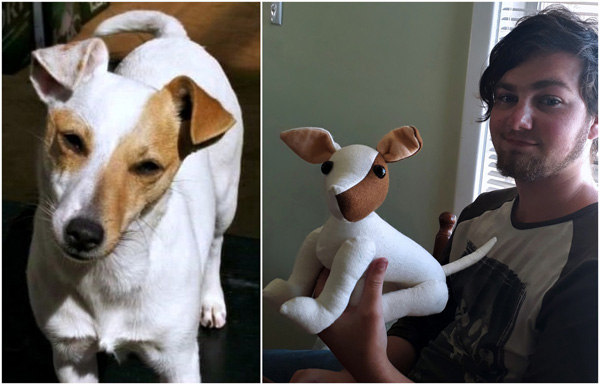 The next two photos are from Mary who has used my Summer Dress pattern to create two totally different outfits.  The first one is true to the pattern and the second one has been altered.  Can you believe this is the first time Mary has sewn with satin, what a great job she did!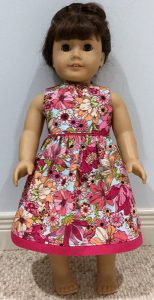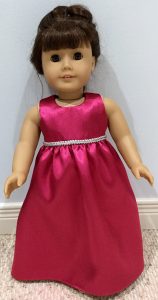 'Hi Rosie,
I am sending you two pictures of the dresses I made from your Summer Dress pattern.  The print one I made first, to try out the pattern, and I absolutely LOVE the way the bodice comes together!  The satin party dress I lowered the neckline and added some silver trim.  Even though I have been sewing for more than 65 years (yikes!), I learned a new trick regarding the bodice!  I had not tried sewing with satin before, and what better way to try than with a doll pattern – if it flopped, I wasn't out much money!  But I was thrilled with the results (especially using my rolled hem foot for the hem) and may tackle something fancy for myself!  I am so glad I found you and have been recommending your site and patterns to my sewing friends.  My granddaughters, once they see these dresses, are going to be happy I found you, too!  Many thanks!
Mary'
I love it when someone finds my website, tries one of my patterns and then 'KAPOW', they're sewing up a storm!  Regina started with one summer dress and then about a week later had resized that one pattern and sewn new summer dresses for her whole dolly family!
'Hi there!! My name is Regina and I love cabbage patch dolls (especially vintage ones!!) I live in super rural Australia and the shipping from USA is so expensive to buy clothes for them. I researched learning to sew my own and tried it before and failed. I couldn't understand what the pattern was on about. Well yesterday I found Rosie's website, and I ordered my first pattern for a summer dress. I made it today and I succeeded thanks to her guidance and videos!! I found the gathering a bit hard but I will work on it for next time. Clara is super happy to model her new dress and I'll be making another one tonight for one of my other dolls who I'm sure are all a bit jealous.'
'Well it's been a busy few days in my house!!'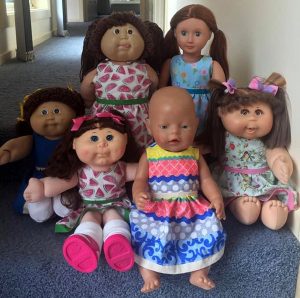 And lastly, we have this beautiful story from Lyn. I love hearing how she has transferred techniques from one of my patterns to another that she already had and experimented by adjusting some pattern pieces to create a completely new outfit simply from the inspiration of some fabric.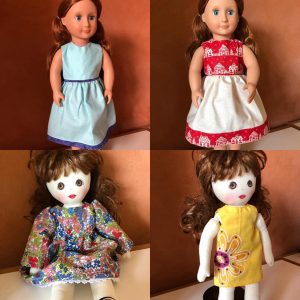 'This is a long story, that starts with Thanks to Rosie for helping me find the right place for the videos. With that help I finished the aqua Summer Dress with a purple batik trim (from a jelly roll) for granddaughter, Casey's doll. On a roll, I then made her a Christmas dress with a Spotlight fat quarter and calico.
Then I thought I would try the same technique on a pattern I already had for my niece's (and now my great-niece, Sophie's) 25-plus year old 12.5" cloth doll. Next, I was inspired by a fat quarter of an aboriginal print that included some lovely flowers that made me think of the flower power motifs of the 60s. So I extended the bodice pattern pieces to mini dress length and used the same technique, adding the flower as an appliqué, wrapping over the side seam. Added bonus … it is fully lined.
Hopefully two happy little girls, and their dolls at Christmas. Meanwhile, my two models are looking very smart. Thanks again Rosie. Phoning me to help was definitely "above and beyond" customer service!'