At Rosies Doll Clothes Patterns we specialise in 18 inch doll clothes patterns, with fantastic dedicated sections for both American Girl clothes patterns and Cabbage Patch doll clothes patterns. From swimwear to party clothes, nightwear to accessories, tops, bottoms and dresses – we'll have your doll ready for any occasion! And the great news is that 18 inch clothes patterns are so versatile that they fit many more dolls.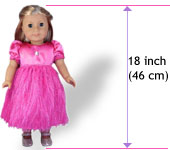 These doll clothes patterns fit American Girl, Australian Girl, Maplelea Girl, Sophia's Heritage, Our Generation, Journey Girl and others.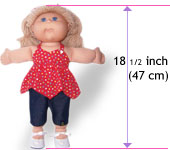 These doll clothes patterns fit 18 ½ inch Cabbage Patch Kids dolls and other dolls with similar measurements.
"I just had to contact you and let you know I recently purchased the Rosies Doll Clothes patterns and I am so excited.
I finished my first pattern the summer dress and if I must say so it is adorable. Thank you so much. I am trying to sew a bunch of outfits for my granddaughters Generation doll for Christmas. She will be so excited. I am so happy to have found you and your patterns. Thank you!"
Wendy – Texas, U.S.A.
18 Inch Doll Clothes Patterns That Fit So Many Different Dolls
We also have hints and tips on resizing our patterns so that they fit a wide range of other dolls including Our Generation, Wellie Wishers, Baby Born and Bitty Twin dolls.
If you're unsure of the size of your doll and whether one of our clothes patterns will fit, our Doll Sizing page compares many different doll types and sizes.
Make sure you also take a look at our Free Resources section where we give you general sewing tips as well as advice on handy tools and supplies that you might need to create outfits for your dolls.
Rosie's Blog is also a fantastic resource if you're looking for doll clothes patterns to fit other dolls as we regularly answer your questions about how to alter our patterns.
American Girl Clothes Patterns & Cabbage Patch Kids Doll Clothes Patterns
Browse our range of American Girl clothes patterns for standard 18 inch doll clothes patterns for all seasons or take a look at our Cabbage Patch doll patterns range and get your dolls looking super stylish.
Mix and Match 5 or More Products and Save 20%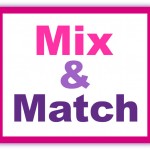 When you purchase any combination of FIVE or more products you get 20% off.  This means you can select a combination of 5 or more patterns in any size OR you can purchase a mix of patterns and online courses to save 20%.  Just so long as you have a total of 5 or more products in your shopping cart the total will automatically be reduced by 20%.
'Sew' start shopping Today!
** Cannot be combined with Free Patterns or any other Special Offers **
With EVERY doll clothes patterns you get… LIFETIME  access to pattern pieces + Instructions + Video tutorials!!

LIFETIME access to my revolutionary step-by-step instructional videos so there is no way you can go wrong!
The PDF pattern pieces and instructions that you download and print.
"Sew" you'd like to sell doll clothes made from my patterns – No problems!
You are most welcome to sell doll clothes made using my patterns on a small-scale e.g. home sewers selling on Etsy or other sites.  Giving Rosie's Doll Clothes Patterns credit for the pattern and providing a link back to my website www.rosiesdollclothespatterns.com would be really appreciated.
If you are selling garments made from my patterns at craft markets or fairs, please let people know how much you enjoyed using a pattern from Rosie's Doll Clothes Patterns if they ask.
"Thank you, Rosie, for your videos. I love having you right here with me when I am sewing your patterns."
Laurie – California, USA