Please take a moment to read some of the testimonials I've received from very happy customers who have completed my online courses and created gorgeous doll clothes from my doll clothes patterns.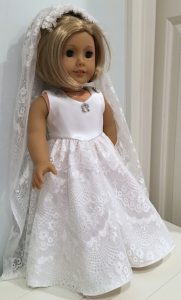 Hi Rosie my Granddaughter wanted the veil to be made of the same lace as I used on the skirt of the dress, and she also decided to add the little floral appliqués on the bodice. She also wanted the dress without the petticoat. Let me just say that your instructional videos are fabulous!! They are clear and articulate and I really don't think I could have made the Wedding Dress as easily without them. Thank you! I'll look forward to making more of your patterns.
Lynne- Massachusetts, U.S.A. 
I just finished watching Rosie's serger course yesterday. It was excellent and reinforced what I learnt at the introductory course I did when I recently bought my overlocker, but included a LOT more info, all well explained and logical. I spent some time yesterday practicing on lots of scrap fabric. Had an absolute blast! I am no longer scared of using my overlocker thanks to Rosie's course.
Susan- Victoria, Australia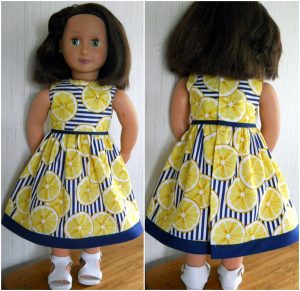 Rosie, I purchased your Summer Dress pattern. I wanted to send you a photo of the dress I made. I want to thank you for the preciseness of the pattern pieces, as they went together without any problem. It fits my AG doll as well as my OG doll. The videos were amazing! Anyone who can turn on their sewing machine, could make this dress. You took each step, explained and showed it exactly, and each segment allow me to complete that step. This allowed me not to be overwhelmed, before I went on to the next video. Lined bodices scare me to death…that safety pin trick…AMAZING! I have never had a dress "line-up" at the back. At the hem line, one side was longer than the other, or if the neckline matched, the waist was not in line. Not yours, perfection! Everything came together and lined up, and matched. I can't wait to make another dress. This was a wonderful this sewing experience. No complications only smiles. Thank you!
Diane – New Jersey, U.S.A. 
I have made your Summer Nightie and really like your video and instructions. I had never thought I could make doll clothes before this!  Thanks! Your website is a great, new idea!
Barb – Schaumburg, IL USA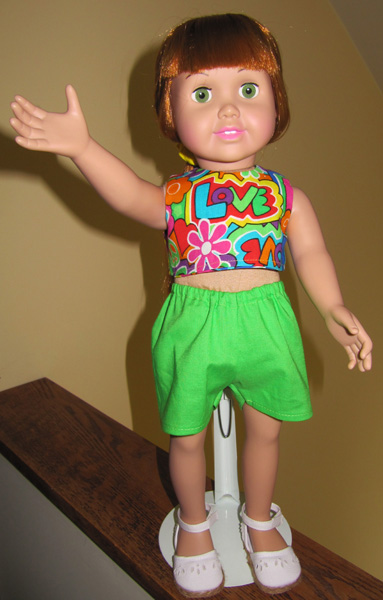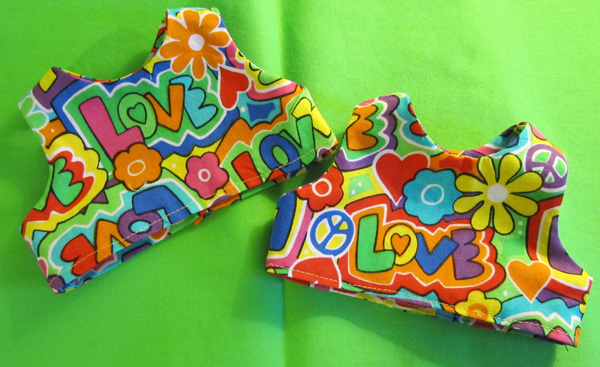 Hi Rosie, I am enjoying your How to Sew Doll Clothes course and the instructional videos and appreciate all the time and effort you have put into creating them.  I love the specificity with which you explain techniques.  For example, I wasn't sure what stitch size and length to use when finishing off edges, and your suggestion was spot on!  So far, I have done the first week of tutorials and as a result, now have a cutting mat and rotary cutter and my own looper!  What great little tools!
I just finished making three sets of the crop top and sport shorts outfits.  One was for my "practice dolly" which I use to check fittings while I sew and the other two for my granddaughters' dolls.
Claudia – New York, U.S.A. 
I purchased your serger programme yesterday and I'm very impressed by it. Had my overlocker for many years and only used it for finishing seams. Your program is an eye-opener.
Pat – Banksia Park, South Australia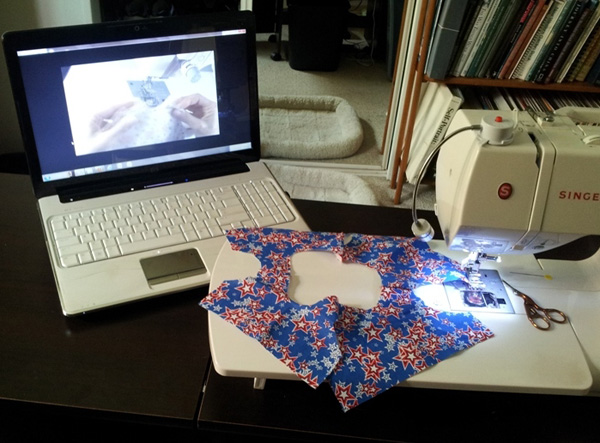 Hi Rosie
I have been watching your videos for a few weeks now. Even though I have sewn for a long time, your lessons have taught me some great things and reminded me of the importance of measuring and measuring again!  I included a picture of my work in progress with your lesson right in front of me!  Such a great way to teach and learn. Step by step and at one's own pace.  Thank you for what you do.
Laurie  – San Diego, California, U.S.A 
Thanks, Rosie!
Although I'm not new to sewing, I have learned several new techniques from you.  I plan on giving the DVDs to my granddaughter next summer when she comes to visit.  I have been making doll clothes for her and now she wants to "hang out" with me and learn to sew.  She says I am the best Meemaw!
Cathy – Alaska, U.S.A. 
I thought you might like to see how the dresses turned out for our Sasha dolls. I resized your Summer Dress to about 83% and did a bit of tweaking on the neck and armholes.
I do have to add a special appreciation for the DVD set. I've been "sort of" sewing doll clothes for years. I say "sort of" because I never seemed to make it past the frustrating beginner stage. Your instructions on the DVDS were wonderful. I spent several weeks going through the lessons and then the projects, just like I was taking a class.  I'm happy to report that I'm feeling like I can sew successfully for the first time ever, and (also for the first time) I'm actually proud of my creations. Proud enough to give them as gifts to other Sasha doll collectors — I think that says a lot.
Your way of sewing for dolls makes it so easy to understand – it is definitely the step-by-step videos that make the difference. I am so so so happy I bought your DVDs and patterns, and will continue to buy more.   Thank you so much.
Lauri – Pittsburgh, Pennsylvania, U.S.A. 
Hi Rosie, I just had to let you know how pleased I am. I have never sewn before, ever. I really wanted a machine and I got one for Christmas.  To-day I made the shorts and crop top for my Grand Daughters doll. If I say so myself, it looks really good and the hardest bit was getting the elastice through, I think it took me about an hour as all the safet y pins I had in the house were too big!!! However, I did get there and I am really, really chuffed. Thanks again.
Irene – Perth and Kinross, England.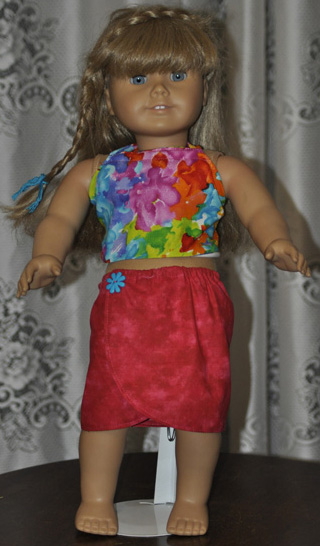 Rosie, I just want to say a big "Thank You" for your How to Make Doll Clothes video series! I literally hadn't touched a sewing machine in more than 30 years, but with your video course and a new sewing machine I'm turning out some very nice doll clothes! It really helps to see you creating the same article of clothing that I'm working on. Your DVD course is amazing! I've attached a photo of my first attempt at the sarong and halter top.  Thanks again for the pattern, DVD series, and your great website!
Mary Ann – Georgia, U.S.A. 
I am so pleased with Rosie's course. Rosie spent a lot of time sorting out how to print from iPad. I have made two pairs shorts, and am amazed they came out great. I have the dvd's too, so will continue sewing doll clothes for ever. Rosie goes the extra mile and really wants us all to enjoy the course, which I do. Thank You Rosie.
Frances – Cornwall, England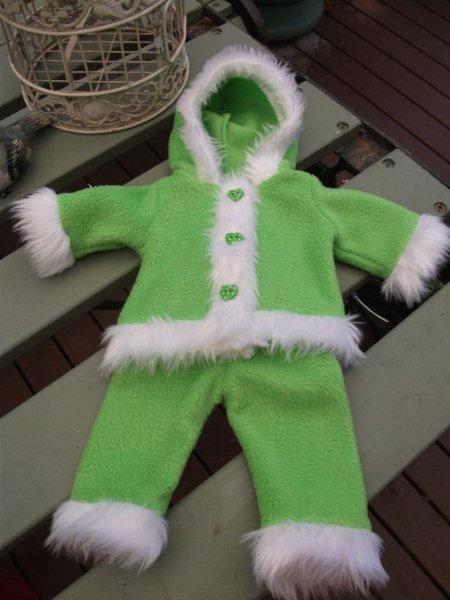 Hi Rosie
I find the patterns easy to download, and the instructions easy to follow.  With variations on each pattern a wonderful wardrobe can be stitched for the American Girl doll.   Thank you for always being available for help and advice.  I have finished the little fur snow suit, I put three buttons and was lucky enough to find green and white hearts.  The items are now winging their way to Hailey for "Lucy".  Lucy will be the best dressed AG in Philadelphia.     One happy Grandma, one happy grandaughter.
Lynne – Lilydale, Victoria, Australia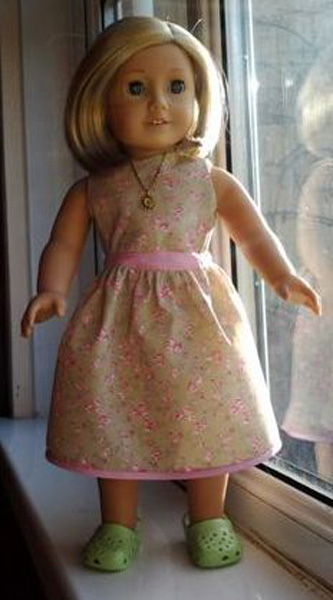 Hello Rosie,
I just wanted to thank you for the excellent pattern, instructions and especially the how-to video.  I'd not touched a sewing machine for 25 years, but I made up your summer dress pattern.   I'm really delighted with the result, and Kit looks pleased with her new dress, and the little crocs which I bought from you too!
Your video was incredibly good.  Each time I struggled with the instructions, you were there on the video to make it all clear.  I'm sure you get loads of messages saying this very thing, but I wanted to send you my appreciation too. Very best wishes.
Katy – Trowbridge, Wiltshire, UK 
I was looking everywhere for Cabbage Patch patterns (so hard to find) and your patterns helped me get pajamas finished in time for Christmas. I consider myself an experienced sewer but still I found your videos keeping my sewing error-free! My little grandchildren will love receiving their parents' childhood Cabbage Patch dolls!
Mary – Michigan, U.S.A.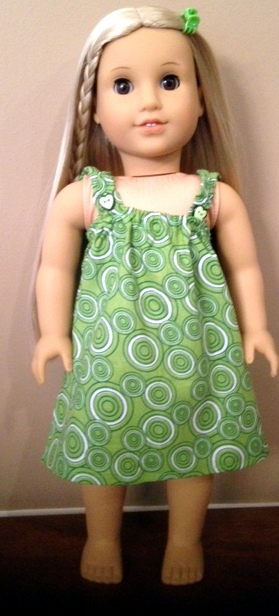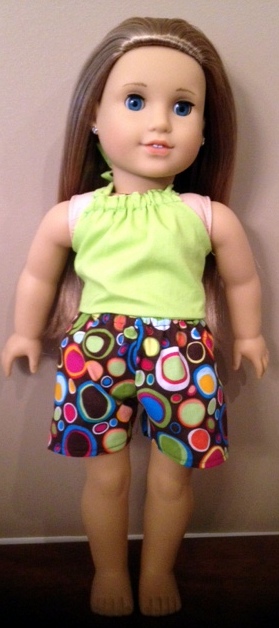 Hi Rosie
I just emailed you some pictures of outfits that I have made with your patterns.  Thank you so much for all the work you put into your patterns and tutorials.  The tutorials are invaluable.  I had never sewn a hem or a casing and I was able to make those clothes!  I am on week 4 of your DVD course and I am learning so much.
Thanks again
Suzanne – Tennessee, U.S.A.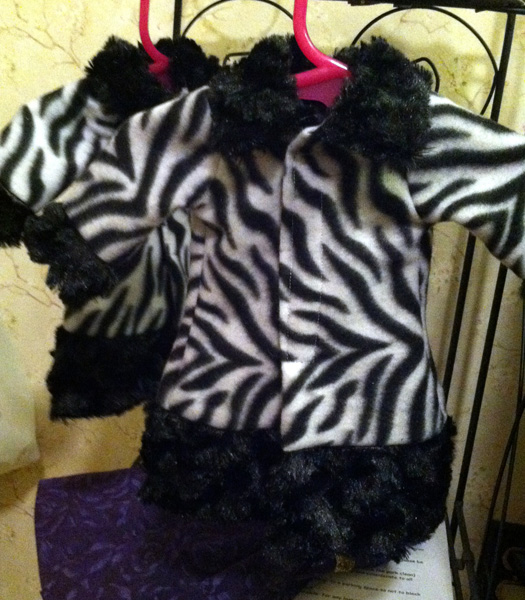 Sometimes you can't understand a pattern unless you see it done step by step. thank so much you have been a great help, I was actually stuck on something when I bought your course and now it is finished  thanks to you, I spent hours trying to figure it out and did it with in minutes after you showed me how on the video. so a big thank you and hug to you.
Diane – Michigan, U.S.A. 
I think you provide a wonderful service.  Thank you!  I think you have the best panties pattern piece ever!
Sherry – South Carolina, U.S.A.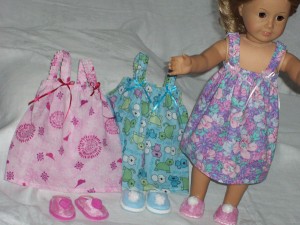 Hi Rosie, I just want to let you know how happy I am to have found you. I have sewn all my life, but have already learned something. I always dreaded turning little shoulder straps inside out, usually taking me a very long time. From your Nightie pattern I learned your way. Oh, how fast. I am making three nightgowns right now. I love your patterns and will keep looking for more.
Judy – Waseca, Minnesota U.S.A.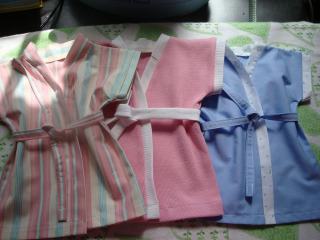 Hello Rosie.  I completed my first sewing project! The crop top looks great! Sooo happy with everything!!!  Thank you!!! Plan on making the shorts tomorrow. Oh, the loop turners arrived today too…. had to buy 2…one for near my sewing machine and the other in my knitting kit!  Thank you sooo much for these wonderful instructions/videos!!  Warmest Regards
Sharon – Wyong, NSW Australia.
Dear Rosie, I was looking for something for my little grand-daughters for Christmas and came across your site and sewing course and just wanted to say what a terrific job you have done.  The videos are so clear and easy to follow with really clear camera angles so everything is easy to see and the steps are simple and not overwhelming , your manner of presentation is so very friendly and relaxed.  I have grand-sons as well and try to get all of the children involved in simple projects and these are perfect..thank you for your efforts.  I bought a machine needle threader ages ago and forgot how to use it….and there was the best demonstration video in the week 1 lesson. I'm looking forward to working through the rest of the course to see what other gems you have in store.
Cherrylmaree – Adelaide, South Australia.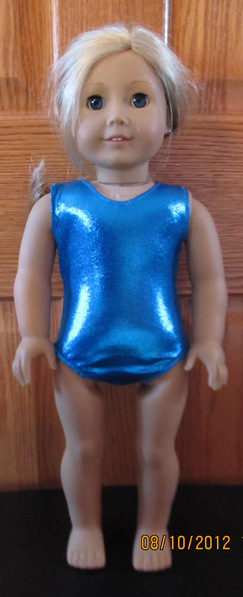 Hi Rosie. I have been working on the three outfits I purchased from you and I LOVE them!!!! I love making clothes for the American Girl doll and always made the same style dress for my daughters AG doll. Now I have more outfits to add to the collection! I am sooooo glad I found your site. You have wonderful instructions and the videos helped when I was unsure about a certain step. Thank you so much for the patterns!! Can't wait for you to post more!!
Crystal – Wisconsin, U.S.A.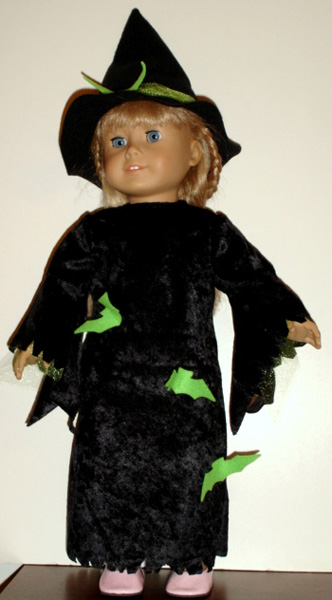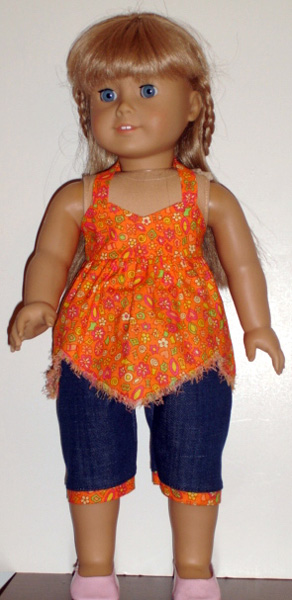 Rosie, I like the way you present the instructions.  Many of the instructions for patterns I have bought in the past takes a lot of time to figure out.  Thanks.
Karen – Roanoke, Virginia, U.S.A.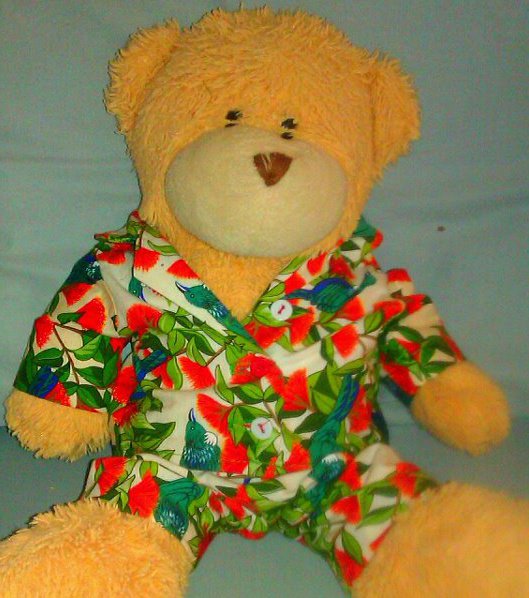 The pattern was awesome!   The pic doesn't do them justice as the fabric is quite busy so you can't see all the detail, but my favourite bit is the wee collar!  They are sooooooo cute and I will be using the pattern again.  Attached is a pic of Humphrey in his new PJs, he is off to my daughter's first school camp hence the PJs.  Many thanks, I'm sure I will be back!
Mirjam – Cambridge,  New Zealand
Just wanted to let you know how pleased I am with your doll clothes making course. The instructions and the videos showing how to sew the clothes are really, really excellent and so easy to follow. Thank you also for your prompt service when I purchased two of your patterns. I love the clothes and look forward to more of them, when they are available. I just love the course.
Anne – Taranaki, New Zealand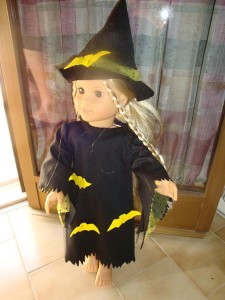 I am finished with my project.  I made 78 items.  Phew!
Could not have done this project without your easy to follow patterns, videos and great sewing tips.  My favorite tip is "You are sewing for a doll, which is different thank sewing for a person".
My grandchildren live in the USA and both girls will be delighted with the costumes.   Thank you!
 Sharon – Sicily, Italy
Fantastic course. Just finished working through all the modules and am about to put into practice what I have learnt. I have been sewing for years, but have had difficulty making the dolls clothes to match the kids clothes. I have learnt something in every module. Well worth the expenditure.
Noela – Herberton, Queensland Australia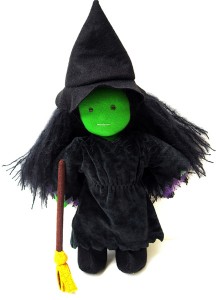 Thank you so much! I love the video – it is so helpful! I will definitely be back for more patterns!  I just wanted to let you know that I loved making the witch costume, and it was so easy to put together.
Gail – Chesterfield, Virginia U.S.A.
I am having a great time sewing out your designs.  So many of the skills transfer across to full size sewing.   Cheers
Ann – Bundaberg, Queensland Australia
Thank you for such easy to follow patterns!  I am totally new to sewing and my week 1 sports shorts have turned out perfectly.  Thank you so much. I am loving the course.  Cheers
Nataleigh – Captains Flat, New South Wales Australia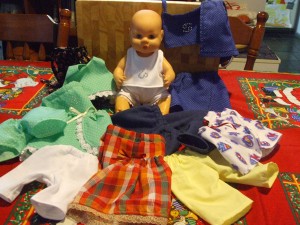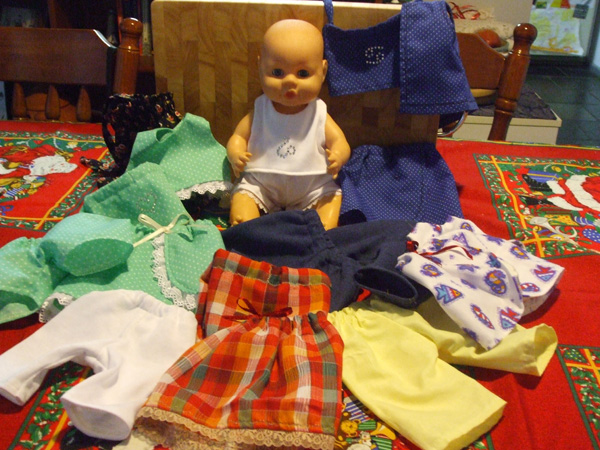 Hi Rosie, I got busy and made up a 'wardrobe' for my grand-daughters to mix and match with their dolls and even made some 'jeans' out of slightly stretch material…I hope you like the pictures.  It was a lot of fun and I even used material I have had since their mother was a little girl ( she is now 39yrs ). A dear friend of mine has a grand-daughter who has a learning disability and has asked me to teach her how to sew….I immediately thought of your course to help me because it is so clearly shown and explained.  We are going to start lessons this afternoon with basic machine technique and perhaps a pair of shorts.
 Cherrylmaree – Modbury, SA Australia