Do you have a serger? Or if you're an Aussie like me, do you have an overlocker? Is it still sitting in its box in the cupboard because you just don't know how to use it or are too scared to change the threads? Want to know how to use a serger from the comfort of your own home?
My new Learn How To Use & LOVE Your Serger online video course is perfect for you!
There are over 2 ½ hours of in-depth instructional videos where I cover everything from understanding the basic parts of your serger and how to maintain it, you'll learn the basic stitches and then work through to doing fancy stitches, gathering and attaching lace. After doing this course you'll no longer fear changing threads or adjusting the tension dials, you'll be confidently using your serger and well and truly on the way to Loving your Serger.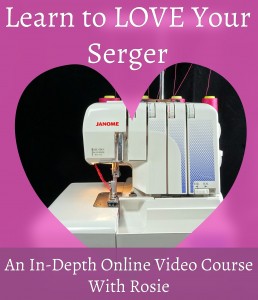 "Hi Rosie, Congratulations on a wonderful, easy to follow and very informative course.  I use my serger (overlocker) a lot but, like most people, I tend to use the same stitches and settings.  Watching you thread, I realised something that I sometimes do, which causes all kinds of trouble.
The Differential Feed section was very helpful, as well. The video on unpicking was a real eye opener… you made it look so simple and I have struggled with that. I had a great time practising tensions on different fabric thicknesses and I made a note of the settings and kept a sample to refer back to.
I think you have found the perfect combination of information and time in the videos so that people don't get overwhelmed and you've made it very easy to find the sections that they need to refer back to. You have done a wonderful job with this and I'm sure lots of sergers (overlockers) will get a new lease on life after people watch it."
Best wishes
Cherrylmaree – South Australia
Who is the How To Use A Serger course best suited to?
Those who own a machine and want to learn how to use a serger / overlocker or want to become more confident using it.
Visual learners who prefer to watch someone else demonstrate what to do before doing it themselves OR
Those who presently use their serger for finishing off raw edges and want to learn different stitches and techniques that makes sewing more fun.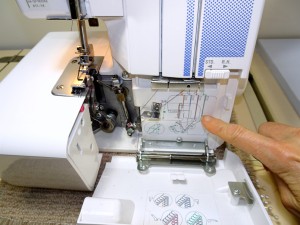 What are the requirements?
No prior serging experience is necessary!
Serger machine, fabric, thread, elastic, lace and basic sewing tools.
Computer, tablet or phone so that you can access the videos.
I will be demonstrating on a 4 thread Janome 644D Overlocker, however you will still learn lots if you have a 3 thread machine.
What am I going to get from this course?
LIFETIME access to 2 ½ hours of instructional videos that cover the basics of serging AND all the tips and tricks that will save you lots of time and frustration when using your machine.
Confidence to do it yourself because the videos are so clear and comprehensive.
The freedom to work in your own home at your own pace, at a time that suits you – you can stop and start or replay as often as you want.
High quality video and camera angels that allow you to clearly see what I'm doing.
Everything I show you can be incorporated into making doll clothes, full sized clothes or general sewing projects. Once you've mastered these serging techniques, a whole new world opens up for you and you truly are limited only by your imagination.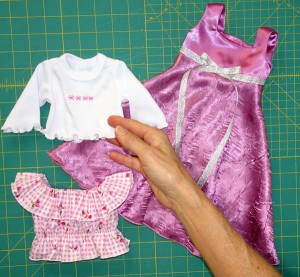 I will show you how to:
Understand your Serger
Maintain your Serger
Change threads the easy way
Master the thread tension
Understand the differential feed and what it will do
Use your overlocker to neaten edges
How to finish seams
Sew rolled hems
Learn tips for navigating around curves
Use your serger to gather fabric, create tubes, attach elastic, create a flatlock stitch and attach lace
Pick up lots of Cool Tips along the way!!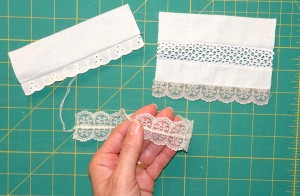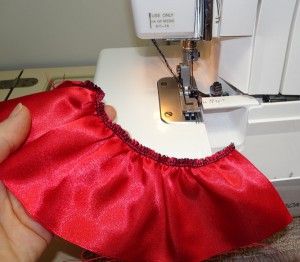 "I purchased your serger course. I have the Brother 1034D. This serger course is wonderful! It works great with my Brother 1034D. Knobs are in different places on the machine, but all the principles apply. And picking out the stitches…that in itself, was worth the price. I have so much more confidence using the serger. Thanks for a wonderfully made and explicit video. I now know what the knobs and dials are for. Your course is so much better than the DVD and book that came with my serger.  Thanks"
Diane – New Jersey – U.S.A
What if I have questions?
Please feel free to email me and I will personally get back to you. There may be a slight delay due to time zones (I'm in Australia) but people are usually surprised at how quickly I respond.
What happens after I buy?
If you're an existing customer, you can log into my website using your existing membership details and start the course immediately.
If you're a new member, you will receive an email with your username and password so that you can instantly log into my website and start watching all the course videos.
Money back guarantee
We know you'll love these online tutorials but if you're not happy with them for any reason, we will provide a full refund so long as you contact us within 30 days of purchase. Please see our refund policy for more details.