I'm super excited to be releasing my very first doll clothes pattern for 2019!
To get me into the groove of filming again, I've chosen a super easy Strappy Dress pattern and I've included a special bonus showing you how to make it into a top.
This pattern featured as a top in the photo promoting my Tights pattern and over the years I've continually had requests for this pattern – You might recognize the photo to the right.  Because it wasn't yet available, I used to always write back with written instructions on how to make it.  'Sew' I'm thrilled that I've finally gotten around to releasing it in pdf form along with all my step-by-step videos!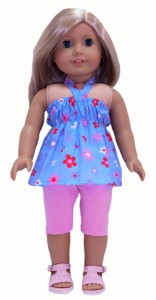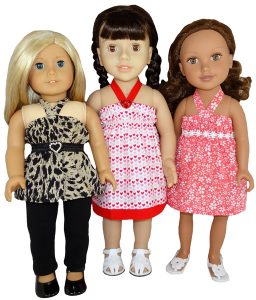 As I mentioned, this is a super easy pattern to make and I've included options for making it with or without the trim along the bottom, using contrasting fabric for the strap and altering the position for the elastic to give the dress or top a different look.
It looks great with or without a belt too!
Because of its design, it is an extremely flexible pattern and will fit a wide variety of dolls without adjustment.  In fact, the top version works beautifully as a dress on my 33cm Baby Alive doll.
Have fun making my new Strappy Dress or Top pattern and I look forward to seeing photos of all your lovely creations.
Cabbage Patch Kids fans, I will be releasing your pattern very soon.