Happy New Year everyone!
To get you all excited about sewing this year, I've decided to release my popular Sewing Machine Pin Cushion pattern as a Free Pattern. Even though it's free, it still comes with my step-by-step videos where I show you how to make this super handy pin cushion.
You'll find it's perfect for keeping your pins handy when at your sewing machine. It even lets you remove pins as you sew and pop then in the pin cushion without taking your eyes off your project. No more having to run to the other table to get your pin container or placing them loose on the bench because you just can't get up right now. I honestly don't know how I would survive without mine!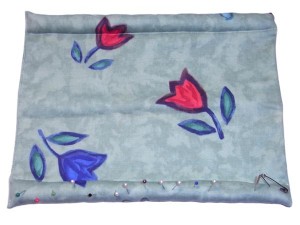 So, if you don't have it yet, then head to my new Free Patterns page and add it to your shopping cart now!
If you already have this pattern, then I'd love you to comment below and let me know what you think about it or send me a photo and I'll include it in my next Share and Tell blog.