Well, it's been a couple of big months for me as I've had some improvements done to my website home page and some work on the back end too.  I've released my Learn to Love Your Serger online course and released my new Overalls for All Seasons pattern in both the 18 inch American Girl and 18 ½ inch Cabbage Patch sizes.,,,whew!  I've got another pattern on the drawing board but I have a heap of special orders that I need to get done first.
It's great to see so many of you joining in the activity in my Sew and Share Facebook group by sharing photos of your creations, asking questions, giving advice and encouraging others on their sewing journey.  Many of the photos I share here in my blog have come from this group and I must say how proud I am to be part of this wonderful community.
Firstly, we have Carol who has been having fun sewing for the smaller 14 inch dolls.  It's amazing how different the same pattern can look by using different prints and adding different trim.  The stripe dress looks so smart and summery and the blue dress is so pretty with the lace trim.
Great job Carol.
'Had great fun reducing the summer Dress pattern to fit a Wellie wisher doll. I followed Rosie's instructions exactly as written in her resources folder and the dress fits perfectly and it also fits Petitcollin Minouche dolls!
So versatile!'
Kathy is a regular in the group and has been busy sewing a cute little Beach Bag and the short version of my Overalls for All Seasons – which makes them 'summer overalls'!  Apparently, she has been having some problems with her eyesight (like most of us of a certain age!) and her solution and the following comment made me laugh so much I just had to share.
'… now that I have purchased a magnifier, I can see where my needle is when I am sewing. I may look like a mad scientist but………… haha'
If you love doing something Kathy, you'll find a way to keep doing it and I'm so pleased that you've found this magnifier is working for you.  We all look forward to seeing what you make next.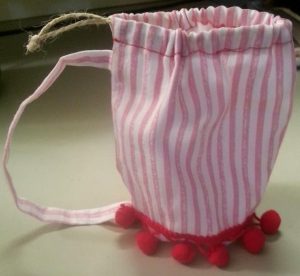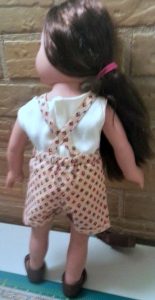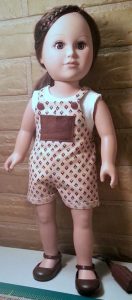 Karen has been a member of our group for some time now and I love watching her journey and seeing her grow in confidence.  She recently did my Learn to Love Your Serger course and shared a photo of her setup
'Guess what I'm doing today?'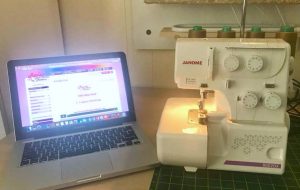 Karen has also recently set up her very own Etsy Store – So Cute Doll Boutique.  We all shared in her excitement when she made her first sale and felt her relief when one of her outfits arrived safely in Canada (it was a long trip from Australia). Congratulations Karen.
The following are some of the outfits she has been busy making.  New PJ's for Kit using my Winter Pyjama pattern, a pretty Fun 'n Frilly Dress and a Fun 'n Frilly Top matched with Capri Pants.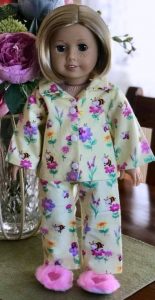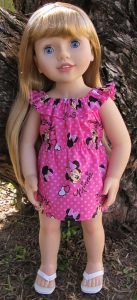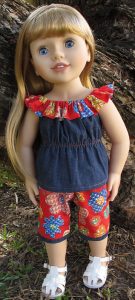 Jacqueline is another member of the group that has recently done my Serger course and it's great to see that she has taken that first step and is now using her serger. 
'Mrs Rosie Just wanted to let you know I brought your serger lesson yesterday and I think it is awesome.  Watched most of it all ready, hopefully will get to do them sometime today.'
And then a couple of weeks later Jacqueline posted a photo of her 'first ever serger project'.  I think she's done an awesome job and I can't wait to see what she makes next.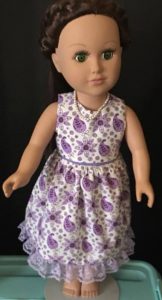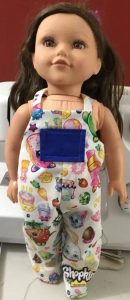 These 'Little Shopkins' Overalls that Peggy made from my Overalls for All Seasons pattern showed me just how much I've lost touch with what's hot with young one's these days.  I had no idea what Little Shopkins were and had to Google it.  Well apparently, they have been super popular with young children all over the world for a few years now…even in Australia!
Thanks for introducing me to Little Shopkins Peggy ?
I'd love to know what you think of the new look Rosie's Doll Clothes Patterns home page and of course feedback on any of my courses and patterns is always welcome too.  So please feel free to email me or post comments on my Facebook page or in my Facebook group.
Thanks to everyone for sharing their doll clothes creations and I hope you've all been inspired to try something new.
Happy sewing