I'm super excited to release my latest Doll Clothes Pattern for 18 ½ inch Cabbage Patch Kids. These Overalls have been designed so that you can make them either short or long and from cool cotton or warm corduroy which makes them perfect for All Seasons.
The pattern pieces also show cutting lines for a plain hem or a cuffed hem on both the short and long overalls. The contrasting colour of the cuff not only looks cute, it gives the overalls a more casual country look.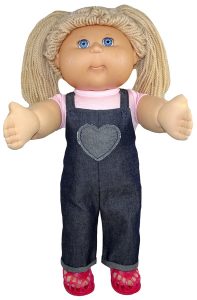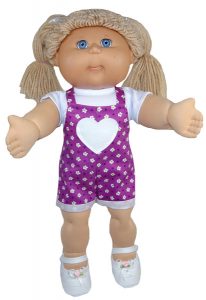 What I love most about this pattern is the sweet heart shaped pocket which gives the overall a real girlie touch.  But it also comes with the option to make a traditional rectangular pocket if you prefer, making it suitable for both boy and girl dolls. Mix it up and use a contrasting fabric for the pocket and your overalls will really stand out in the crowd whatever shape pocket you choose.
The straps cross over at the back and I've added elastic in the waist for flexibility so this overall pattern will fit a variety of Cabbage Patch Kids doll sizes which is super important because Cabbage Patch is hand stuffed and variations in size is common.
My step-by-step videos also included some additional sewing tips that may come in handy when doing your everyday sewing of thick fabric or small pieces.