Yes, over the last month we have been working behind the scenes (with the help of my wonderful web guru) to make my website Mobile Friendly.  This means that you can now easily browse my website, purchase new patterns, log in and view my videos on your phone without having to use your fingers to zoom in…..WoooHoooo!
And while we were at it we did a few styling changes too.  What do you think of our new 'Steps to Complete your Outfit' page?  We hope that this will make it easier for you to download and save your doll clothes patterns and to view the Step-by-step video instructions.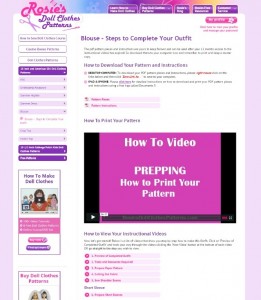 You may also notice a slight change to the way your menu works when you log in.  This is so exciting for us because we had some customers who had purchased my online course and ALL my patterns and they were experiencing problems due to the menu not being able to cope.  This was a major concern for me because I feel it's so important that all my customers have a great experience when they log into my website.  So when my web guru found the solution it was cheers all round and a huge sigh of relief from me!
So although we're pretty sure that we have checked everything, please let me know if you come across something that is not working correctly so that we can fix it pronto!
I hope you all enjoy these little changes and updates to my website.  Now it's time for me to get back to doing what I love best – designing my new pattern!
Happy sewing