It is just over a year since I went live with Rosie's Doll Clothes Patterns and it is with great excitement that I re-launch my 'New Look' website.  I have been absolutely blown away by the response from all my wonderful customers, the feedback and encouragement has been awesome – Thank you!
As with all new adventures, you find some things work really well, and some things need a little tweaking.  After listening to all your feedback, I am happy to say there have been some changes that I know you will love.
Firstly, I think you will agree, the site looks much prettier now and it is a little easier to navigate around and find the patterns that I have available – thanks Carolyn.
Secondly, you will notice the Log In area is much easier to find and hopefully much easier to use.  Changing those complicated passwords that are computer generated when you first become part of the Rosie's Doll Clothes Patterns family can now be done the first time you log in!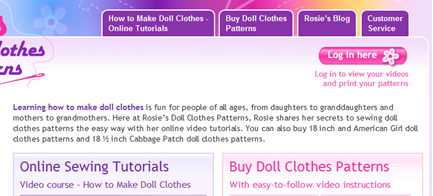 And thirdly, I know many of you will be ecstatic to know that my How to Make Doll Clothes course will soon be available on DVD so you can keep it forever!!!!   Stay tuned for more info in the coming weeks.
'Sew' enjoy looking around my 'New Look' website and thanks again for all your support and encouragement over the last 12 months.
Happy Sewing