Oh my gosh I've been soooo slack!  You guys have been amazing, sewing up a storm and I haven't posted your wonderful creations in a blog post for months.  So let's get started.
Narelle has made the most gorgeous wedding dress with lace overlay on the bodice and lace sleeves, then stitched beautiful tiny pearls around the edges of the bodice.  Love it!
'Hi Rosie, here's a couple of pics of the bride outfit I have made for my granddaughter's birthday, for a Journey Girl doll.  Your patterns are very easy to follow and the very clear instructions in your videos are a great help, especially the tips! 
Very happy with the end result! 
Regards, Narelle'
Oh my Gosh, Marlene has been soooo busy creating lots of outfits for her granddaughter's Cabbage Patch doll that I had a really hard time deciding which ones to include in this blog post.  I just love the variety and I'm sure your granddaughter was thrilled to receive this wonderful collection of doll clothes Marlene.  I especially love the bright and fun nappies/diapers.  Well done.
'I purchased some patterns off you recently. I really enjoyed making them. I thought you might like to see the finished products made out of scraps. They are for my 3 year old granddaughter in Melbourne. Marlene'

Great to see Peg is enjoying sewing doll clothes and finding my step-by-step videos so helpful.  Your Summer Dress is very pretty Peg and I'm looking forward to seeing what you make next.
'Here is my first (but definitely not my last) doll dress with your pattern.
Thank you for your great pattern, instructions and Especially your videos for us visual learners. So excited to find your Facebook group as well.
Blessings,
Margaret (Peg)'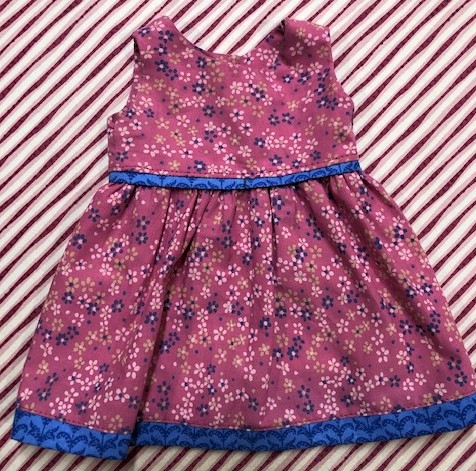 Julianne has also been super busy creating an amazing wardrobe for her Our Generation doll, Sarah.
'Hi Rosie, just love your patterns and easy instructions together with wonderful videos if I'm a bit unsure. I have done a lot of cutting out so far ready to make more but have attached photos of Our Generation doll, Sarah, modelling summer dress, Vintage 50's dress with sleeves and added net underskirt to the design. The evening gown is also the 50's dress, the skirt of which is a lightweight curtain from a charity shop also with double layer netting underskirt. Also modelling blouse and overalls. Hope you like them. 
Julianne'
Thanks for letting me know how helpful you have found the videos Julianne.  Sarah looks super impressed with all her beautiful new outfits.  Love the upcycling too.
This last photo shows three beautiful pink princesses that Donna has made using my Wedding Dress pattern.
'I just finished making these up today, I'm addicted.  Bought 2 more dolls, now these 3 are mine.'
It's funny how once we start sewing for dolls, we become addicted and accumulating dolls.  You're not alone Donna.