Wow, it's been wonderful to see so many of you enjoying my new Fun 'n Frilly Top pattern and I'm so glad that I included the bonus dress pattern as it seems that many of you have been making the fun 'n frilly dress.
Within hours of the pattern being released, Joan had bought the pattern and made her first dress. She then made another 3 dress I think it was that day and the cat print one shows how she has added a pretty pink belt made from Fold Over Elastic to complete the look and the next one shows how she has substituted wide lace for the frill. This makes it a lovely feminine dress.
'Purchased your pattern a few hours ago….love the style. Very easy and quick to make. – Joan'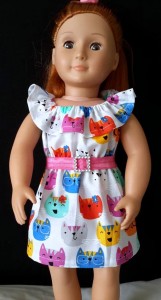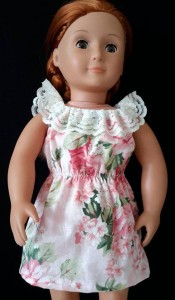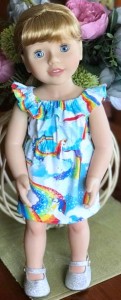 Karen received the Fun 'n Frilly pattern as a thank you for suggesting the name for this pattern and it didn't take her long to make her first couple of dresses. What a lovely surprise when she told us that she had already sold this beautiful Unicorn dress only days after making it!
'All I can say is WOW!! Rosie this is the most fun little dress to sew!! I absolutely love the pattern. So quick to make, EASY, and they come up so well! Thank you for yet again making a fool proof pattern! – Karen'
The Yellow dress was made by Peggy. This print is perfect for this dress, it's so cute.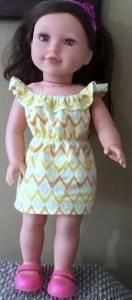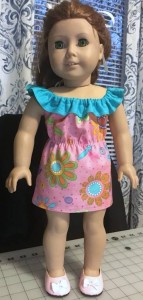 I love the way another Karen has used a contrasting fabric for the frill, it makes it a stand out feature.
Laurie used a lovely bright print and trimmed the hem nicely with yellow to match the flowers. Great idea.
'Really enjoyed making this new pattern. Instructions were great and the video was so helpful. – Laurie'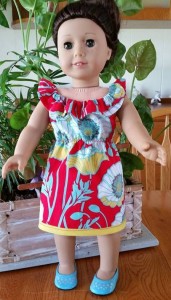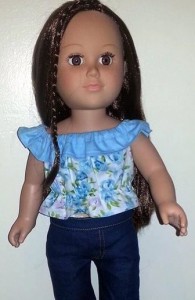 At last, we have a Fun 'n Frilly Top! Yes, Kathy made this sweet top and used a contrasting blue for the neck frill, it looks adorable. But the best thing about Kathy sharing her photo is that she also shared with me how a little tip I gave in my step-by-step videos has helped her finishing off her seams. I absolutely love it when someone gets an 'aha' moment.
'Hi Rosie. Well here is my first top from your fun and frilly top pattern. Didn't have anything to match so I borrowed the jeans from the Our Gen girl (April) I bought this week. She didn't mind as long as she gets the top once Emma takes it off. The next thing to sew is the sarong (short) I have cut out to go over a swim suit I made earlier this year. Love this pattern of yours. I will be making more of them. I also have to give you some kudos. Something you said about finishing seams with zigzag. I did it because of your tip on how to do it and the settings on the machine. I am so excited, because now I will be able to finish ALL of my seams. So appreciative of you Rosie. – Kathy'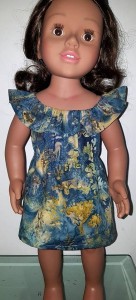 And the last of the Fun 'n Frilly dresses for this blog. Jane dress has turned out beautifully – no need for any extra trims.
'I love this pattern. Thanks Rosie! – Jane'
Now let's have a look at some other patterns that you have been busy making over this last month.
Janyt sent me this photo of her gorgeous Winter Nightie. I love how she has used lace as the frill on the bottom, it makes it so pretty.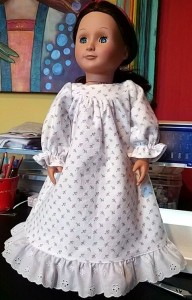 Margaret did my How to Make Doll Clothes course back in September last year and has purchased many patterns since then. Although she hasn't sent me in a photo I just had to share her email as the last part truly made my week. Hearing how I've helped someone go from not liking sewing, to loving it is so heartwarming.
'You are a wonderful teacher and I am really enjoying all your tutorials, excellent… I am only a learner at sewing, I do know the basics but you have taught me so much and I truly appreciate all your time and effort…Thank you so much 🙂 Keep up the great work, I never used to like sewing…now I love it thanks to you. Best regards, Margaret'
Every now and then I hear from customers who have started selling their doll clothes either online or at local markets. It's great to see Elaine taking her love of sewing to this level.
'Hi Rosie, I just wanted to show you what you have got me started doing. I am making a lot of doll clothes to sell on etsy (myretirementcure) to keep me sane. I mention each time I use one of your patterns so I can somehow send a thank you back to you for your encouragement and the great lessons you have given me. Elaine'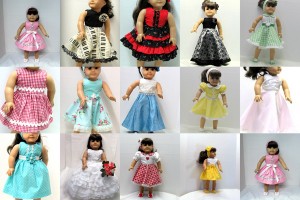 My Wedding Dress pattern continues to be a very popular pattern and I love seeing photos especially when you have made your own special tweaks. Lynda's grandchildren had difficulty keeping the veils on the doll's head using the slide comb so she has come up with a great solution and I am sharing it here just in case it works better from someone else who has had this problem too.
'We finally got all the "girls" together in their wedding dresses so I'm sending you a picture! The two ivory dresses are for my granddaughters' dolls and the white one is for their best friend's doll. They were fun to make but I couldn't help customizing a bit here and there!
We had a few issues keeping the veils on the dolls. I made headbands out of decorative (ruffled) lace, wove the band through the teeth of the comb and stitched it into place. It worked like a charm. Even the youngest child can put the veil on now, and best of all, they stay in place!
Thanks for your fabulous pattern. Lynda'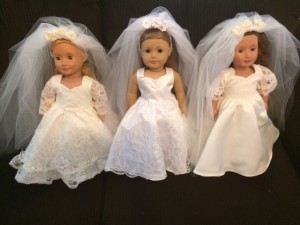 Wow, what a busy month we've all had.  Thank you to everyone who has sent in their photos and shared their sewing stories with us, it all helps to inspire and encourage each other so please continue to share your photos and stories.
And don't forget that everything is 20% off this month with March Madness.  Use coupon code Madness20 during checkout to receive 20% discount on ALL patterns and my How to Make Doll Clothes video course.  Valid until midnight 31 March, 2018.