Oh my, it's been such a long time since I've done a Share and Tell blog and I've got so many photos to share. Perhaps I will share some now and do another blog in the coming weeks and I'm sorry if I don't share them all.
The first lot of photos is from Sharon and she has made a gorgeous Wedding Dress, veil and bouquet for her granddaughter's doll. She even made the shoes that we can't see. What a clever
lady. I think her granddaughter is over the moon with this stunning ensemble!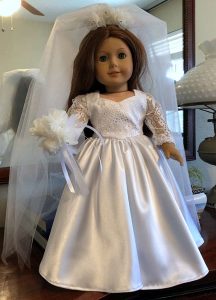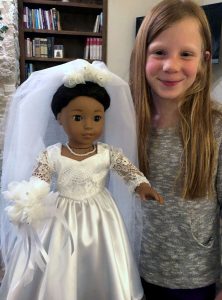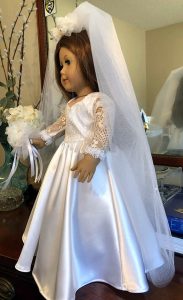 "Hi Rosie,
I've attached pics of the wedding dress ensemble. In some of the pics, it's being modeled by my Felicity and one pic shows it on Nanea with my delighted granddaughter Emma.
Thank you again for your wonderful pattern, instructions and video! I look forward to making more of your patterns and learning your wonderful tips and tricks to make sewing doll clothes easier and quicker.
I also made the bouquet with a "thumb holder", a necklace, and satin shoes…those don't show in the pics, but they added the perfect touch to the dress.
Blessings,
Sharon"
This next photo makes my heart sing!  I absolutely love hearing about young girls learning to sew and can only imagine the wonderful memories that both Ruth and her granddaughter will create spending this precious time together.
"My granddaughter, Bella, having her first sewing lesson with Granma and Rosie! She has done SO well! The Beanie pattern is so super super easy for a 9 year old to do as a first sew!
Ruth" 
Great to hear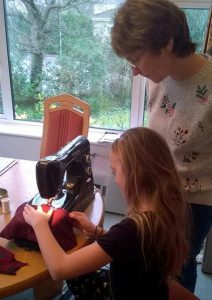 Dianne has been super busy creating a wonderful wardrobe for her granddaughters.  She made two of everything but I've cropped them so that I could include most of the photos.  The overalls look super cute and I love these two different versions of my Drop Waist Dress 5 Ways.  The first option is a striking black and white dress and by swapping the gathered skirt for the pleated skirt she has created a sweet school uniform.  Love all these Dianne.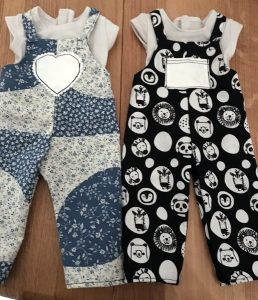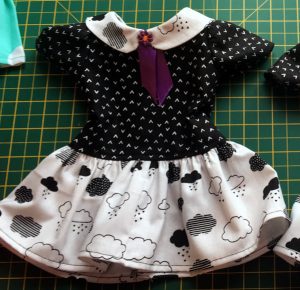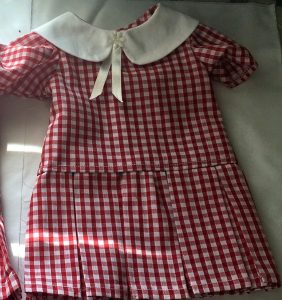 "Hi, I have made them for my granddaughters. I have asked my daughter to photograph them on the dolls. In the meantime, I have attached what I have made using your videos. I am now sewing the girls the nighties.
Best wishes
Dianne"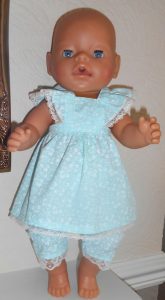 Karen has made my Pinafore Dress and teamed it with some shortened Capri Pants. Trimming everything with lace has given this outfit a really 'pretty' look. It is 'sew' sweet Karen.
"Just had to share my latest project with you a made the pinafore dress with a shortened version of the capri pants and here are the results. I love them.
Thanks
Karen"
How cute does Kay's Cabbage Patch doll look in her beautiful new Summer Dress!
"Hi!
Here is my cabbage patch girl in her new Summer dress! I have made two of these dresses from your pattern and I absolutely love it!
Kay"
I love it too Kay.