I'm not sure if you realise just how excited I get when I receive an email with a photo attached. I'm kind of like a big kid, I can't wait to open it and see what the photo is and who it's from. I know it's selfish, but I do get a rush from knowing that I've helped someone create something truly special and unique from a flat piece of fabric and then I get to share the photos with you all!
These first photos are from Megan who has made this super cute Handkerchief Top and matched it with some beautiful matching long shorts. She simply adapted my Sports Shorts pattern by adding length and adding the trim around the hem. Then she was inspired to make a 'Frozen' dress for her granddaughter by adapting my Wedding Dress pattern and what an absolutely amazing job she has done!
'Hi Rosie
………I had a lot fun being inspired by and adapting your patterns. My husband joined in and made the clothes hangers.
With thanks Megan'
The next lot of photos are from Rosemary and she has made the free Sports Shorts and Crop Top patterns that come with my How to Make Doll Clothes video course.  She has added lace to the bottom of the crop tops to lengthen them and designed her own skirt to go with it. She has also made the short version of the Overalls for All Seasons and the Fun 'n Frilly bonus dress pattern that comes with my Fun 'n Frilly Top pattern.  They have all turned out super pretty and I have to say, I do love a little bit of lace.
'Hi Rosie.  I have sewn on and off for years.  And I started doing doll clothes using the big name pattern company patterns – what a lot of work for dolls!
I get more out of your videos.  I like that I can use either the written or the videos. I find your patterns are much easier to follow and have very interesting design twists that you don't see on ordinary patterns. My grandniece will love these for her dolls.  I hope to use the patterns for dolls I plan to donate for Christmas also.
Thanks again for the great patterns and instructions.
Regards Rosemary'
I'm sure your grandniece will definitely love these new outfits and what a wonderful thing you are doing donating dolls and doll clothes at Christmas time.  I wish you well with this and look forward to seeing what you make next.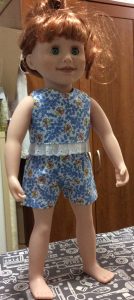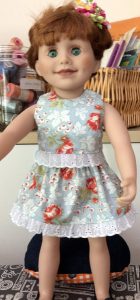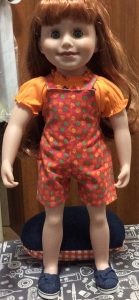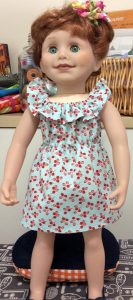 Julia has made my Wedding Dress pattern and OMG (Oh my gosh!) it turned out absolutely gorgeous! I love that she didn't let her fear of doing a hem on a circle skirt stop her from making this dress. Her solution to line the skirt is a very clever and easy way of getting a beautiful, clean finish to the hem.
'Hi Rosie
I finished the dress and it is beautiful!!! …. since I am NOT good at hems, I just used a very thin lining so the bottom would be smooth.
Thanks for the videos, Julia'
She has also promised to send me a picture of the entire wedding party after the wedding in August. I can't wait!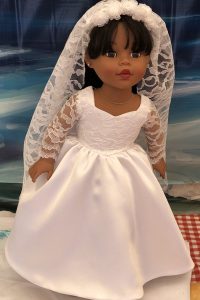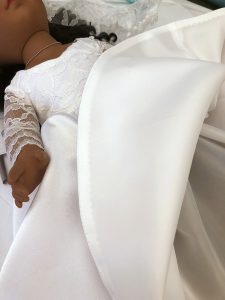 And to finish off this month's Share and Tell blog, I just had to include this super cute photo of Vera's Little Cabbage Patch Kid wearing her new overalls and blouse.
'First, your videos are wonderful! Second, this picture is a combination of patterns. The blouse is the top of the Vintage dress and the other is, of course, your overalls. The doll is only 16″ so I printed the pattern at 80% but as it turned out I didn't need the elastic (on the sleeves). I love this outfit. Thanks.'
What a great idea to use the top of the 50's Vintage Dress pattern to make a blouse and matching the pocket and trim on the overalls to the blouse makes this set adorable. Well done Vera.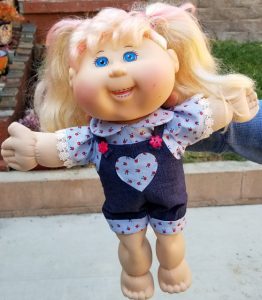 Don't forget, there's still time to get 20% off ALL courses and ALL patterns using coupon code JOLLYJULY.  Yep 20% off everything on my website, but only until 31 July, 2018.
And as I said at the start, I love receiving your emails with photos of the doll clothes you create so keep sending me your photos, they truly do make my day. 
Until next time,
Happy sewing