Wow, I truly love writing these blogs.  I get so much joy out of receiving your photos showcasing all the gorgeous doll clothes you have made and it is such a privilege to share some of these photos with you all.  Seeing the fabulous modifications and fancy trims is a real treat.
Melanie has been making dolls and doll clothes for her granddaughter who is a very lucky little girl.  The rag dolls are 20" tall and Melanie tells me that my 18 Inch American Girl doll clothes patterns fit perfectly which is fantastic to know.
These two cuties are wearing modifications of my summer dress pattern.  'The plaid dress is a cropped bodice with gathered sleeves and trim. The tights are really just little girl tights I bought and cut a length off (about 6″) and then sewed two zig-zag up the middle and cut between the stitching.  Then turned right side out.  Pretty easy! The floral dress has different trim and a slight capped sleeve."
I think Melanie has done an awesome job and I'm sure her granddaughter is thrilled.
The next photos are simply stunning!  Sherry has been very busy and…
"made the wedding dress a couple of times already.  The videos were a great help.  I just wish all the videos could've been combined into one, but I'm sure there are others that prefer each task in a separate video.  All in all, it was a great experience and the dress fits great.  I did change up the pattern for both dresses.  I've attached photos of one.
Thanks, Sherry"
I love the train Sherry has added to the wedding dress, it's absolutely gorgeous!  Did anyone else see all that fabulous fabric neatly arranged on her shelves in the background?  It must be heaven sewing at your house Sherry
Frances started my How to Make Doll Clothes course in late January and has been having lots of fun sewing for her Bimbambola 18 inch doll and she looks so cute in all these little outfits made from my bonus patterns.
"The best tip I enjoyed was using a looper to turn straps. Also to press material at each stage. I have sewn doll clothes before, but never been satisfied with the end result. Now I show friends my doll clothes without hesitating. Thank You Rosie."
It's my absolute pleasure Frances and I look forward to receiving more photos from you.
Betty Ann made this cute dress for St Patrick's Day by altering my new pinafore dress pattern.  She made the straps wider and gave more fullness to the skirt, then finished it off with a cute flower embellishment at the waist and teamed it with a matching hat.
Great job Betty Ann!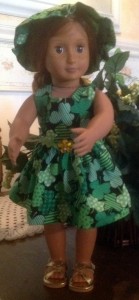 Melinda has also done my How to Sew Doll Clothes video course and has been sewing up a storm for her granddaughter who is absolutely loving all these new doll clothes!  This is just a very small sample of what Melinda has been making.
"I stayed up until 4:30 this morning sewing, haven't had this much fun in years!
I am so very much enjoying the videos! I haven't sewn clothes in 40 years and never doll clothes, I'm learning so much. It's a lot different than quilting. I highly recommend you to anyone starting to sew for dolls."
It's great to see so many people letting their creativity loose and having fun altering my doll clothes patterns.  If you haven't tried it yet, don't be afraid to play with the patterns a little (or a lot) as something as simple as lengthening the skirt and using fancy fabric and adding a little glittery bling will give you a ball gown instead of a dress.  The more you experiment, the more confident you will become and the more beautiful doll clothes you will make.
Thanks to everyone for sharing your photos and stories, your inspiration is priceless.
Happy sewing