Happy New Year everyone, I hope you all enjoyed this special holiday time with your families just as much as I did.  It's great to be back and I am really looking forward to introducing new patterns and tips this year and of course, hearing more of your sewing adventures.
I thought I would start the year off by sharing more of your wonderful photos.  Firstly, we have more beautiful doll clothes from Crystal….she really should consider selling her doll clothes as they are awesome!  The first three suggest that her daughter is a huge soccer fan (love the colors – green and gold are the Aussie sporting colors!)  Crystal has used the same fabric for the handkerchief top and capri pants, the summer dress and the sports shorts and crop top combo.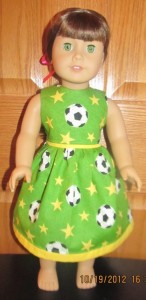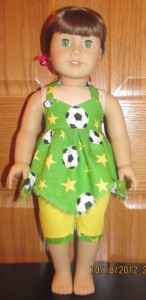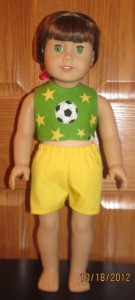 Same summer dress pattern, more gorgeous dresses……
One more summer dress using fabric depicting Dorothy in a scene from the Wizard of Oz, so cute.  Next is a halter top and sarong combo using pink and black which is another favorite color combination.  Another owl print crop top and sports shorts set (we know from earlier photos that Crystal loves owls) and finally some froggy camo print winter pyjamas.  Phew!
I missed one of Peggy's Funky Fur outfits in my last customer photo blog so have included it here.  Peggy also made some cute mittens and shoes to complete the look – it will certainly brighten a dull winter's day.  Margaret is a new member to join Rosie's Doll Clothes Patterns and has sent in a photo of her pretty denim and pink capri pants, I can't wait to see what Margaret makes next.
Again, thanks to everyone for sending in your photos, it gives me a huge thrill to see the wonderful outfits you make using my patterns and I hope that it gives others inspiration to try new color combinations or even just the confidence to 'have a go and make your own doll clothes, it really is easy and lots of fun'.
Happy Sewing