As promised today we will discover how Peggy used a ladies sock to make this sweet summer top to go with the cute capri pants.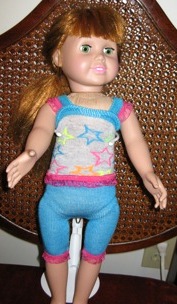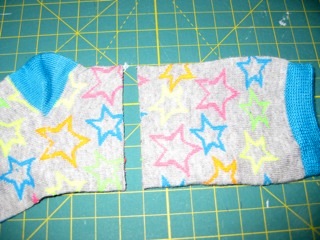 1. For the top I took another sock that worked with the solid colour previously used. I cut it across at about 3 ½ – 4″ down from the top edge creating a tube. I decided to finish the cut edge with a rolled hem in the same colour as the ruffle.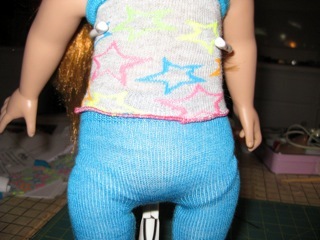 2. I had hoped it would frill out enough to look good but I didn't take into account that the sock had to stretch too much to get around the doll's torso. I just wasn't happy with that look. I then decided to add the same ruffled elastic as the bottoms had on the legs.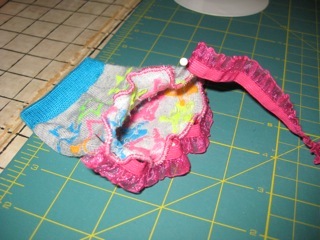 3. I pinned the ruffle around the rolled hem I had originally done.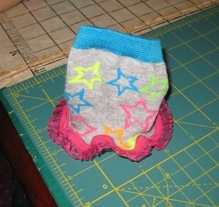 4. Next I sewed the ruffle on with a zigzag stitch.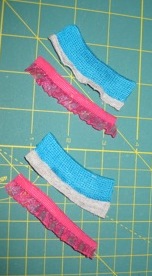 5. I took one of the other socks and cut the band off with a bit of seam allowance to spare. I then cut it in half to make two shoulder straps. I think the next time I will use two bands to make the straps longer.
I also cut two pieces of the ruffle elastic the same size and pinned it to the sock band at the raw edge.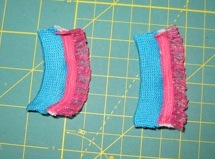 6. I attached the pink ruffle with a zigzag stitch.  Then I attached the two pieces to the top with the stretch stitch.  Make sure to stitch close to the top edge of the band.  It was challenging to sew the strap to the inside of the band as it was tight space.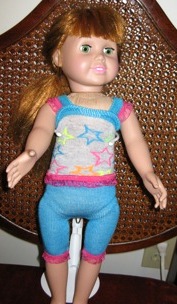 7. And here is the completed top on my doll.
NB.  I think you could omit using another sock band for the straps and just use the trim that is used on the bottom of the top.  In this case, pull the top onto the doll and check the length that you need for the straps before cutting them.
Thank you again Peggy for another wonderful tutorial on creating 18 inch doll clothes from ladies socks.
For more information on how to make doll clothes the easy way please visit my How to Make Doll Clothes Video Course.
Happy Sewing
By Rosie Saw