Today I've got another tip from Peggy on how to make a pair of doll clothes underpants from a ladies sock so again this is perfect for using those odd socks that we all end up with.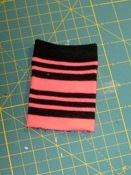 1. Pull the sock onto your doll with the top of the sock at the waist or hips and then mark the crotch level with a pin or pen. Remove the sock from the doll and cut across the sock at this point.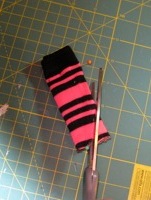 3. Cut a wedge shape off the bottom corner on the side that has two folds. In this photo the left side has one fold and will be the centre front and back of the pants so you cut from the bottom right side.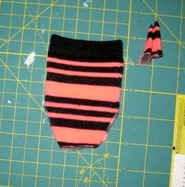 4. Open the sock out and you can see the pants take shape.  Because the leg openings were cut together, they will be the same size.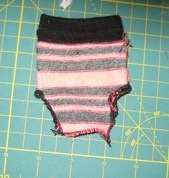 5. Peggy does a rolled edge with her serger around the leg opening. You could do a zigzag stitch if you don't have a serger. Then serge or stitch the crotch seam with right sides together.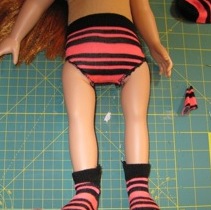 6. The elastic edge at the top of the sock becomes the waistband and it fits beautifully.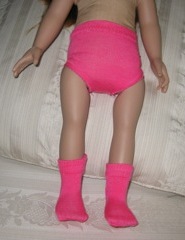 Peggy has since used fold-over elastic on the leg openings and attaches it before sewing the crotch seam.  This give a nicer finish on the edges.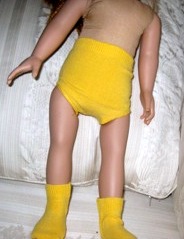 As you can see from the photos above, Peggy loves making matching socks and underpants.  In the coming weeks Peggy will show us how to make a simple top to match with these underpants.
Thanks Peggy for sharing this wonderful tip with us all.
If you would like to make some underpants for your 18 inch doll or 18 ½ inch Cabbage Patch doll using an old t-shirt and a little elastic, I have a lovely underpants doll clothes pattern that is easy to make and I've been told is, "the best panties pattern piece ever!"
Happy Sewing
By Rosie Saw