As the year comes to a close, I tend to reflect on the year that has just passed and usually I concentrate on the things I wish I had of done and the things I just didn't have time to do.  But this year I'm going to celebrate what I've achieved.
I'm thrilled to look back and realise that I have released three new doll clothes patterns with video tutorials as well as a 4 Part Video series on How to Alter One Basic Doll Clothes Pattern to Create Over a Dozen Different Outfits for Your Doll.  It is with these patterns, videos and my video course that I have helped to inspire others to either learn how to sew, learn new skills and gain confidence, or provided the motivation to get back into sewing after many years.  The emails and messages I receive from happy customers, like the one below, give me much joy and are what drives me to create more patterns and videos.  So thank you for taking the time to share your experiences with me.
'Thank you so much, Rosie, for these wonderful videos-  These are all I was needing to get started on some Christmas gift clothing for my granddaughter's 18 in. doll!  Your methods and ideas are lovely- so simple, yet inspiring!  I appreciate all the work that must be behind your videos.  Thanks again for sending these out!   
Best wishes-  Annmary C.'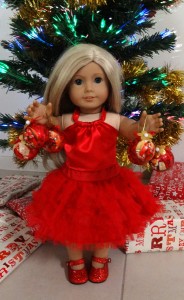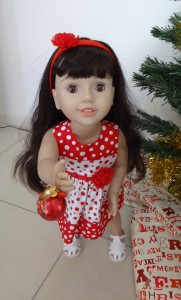 None of this would have been possible without the help and support of my wonderful husband who deals with a lot of the technical stuff and my daughter who has learnt how to edit photos and videos.  So I say a huge 'thank you' to these very special people in my life.
I've also managed to keep up with the sewing for my Doll Clothes website and actually gotten through the Christmas rush without losing my head!  I must thank my daughter for help with this too as she picks my orders, wraps them and dispatches them as well as helping me with stocktakes, receiving stock and approving (or suggesting improvements) to my new designs.
And finally, I've actually kept the family household humming along without too many hiccups.  So overall, I think I've had a very successful year and one to be very proud of.
I wish you all a wonderful Christmas with your families and I look forward to bringing you new doll clothes patterns, videos, sewing tips and ideas in 2015.
Merry Christmas from this Aussie Girl and of course Happy sewing everyone.