Well, I know March Madness is all about Basketball in the US but here is Australia it's usually a fairly 'nothing' month with the kids finally back at school at the end of January, Valentines Day is over and Easter is not quite here.  So we've decided to liven things up and create some havoc with a little of our own "March Madness".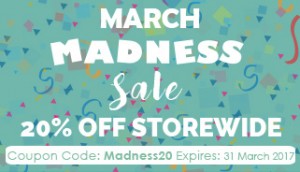 If you're not quite sure what all the fuss is about when people rave about my instructional videos, then try one of my patterns at 20% off the retail price and I'm sure you'll be back for more.
This craziness end midnight March 31, 2017 so if you've been thinking about doing my course, then now's the perfect time while the price is so low.  And if you've been dreaming of all the doll clothes you could make if you just had the patterns, then go wild and stock up today!
Simply enter the coupon code MarchMadness during checkout and 20% will come off the total.  How crazy is that!
Happy sewing