I'm sure you all remember Peggy and her earlier tutorials on how to make tights and a dress from a ladies knee sock.  Well I've finally put together a tutorial that she sent me quite some time ago showing how she made a cute top and capri pants from ladies knee socks.
In this blog Peggy shows how to make the Capri Pants with the contrasting trim and in a coming blog you'll see how she made this sweet summer top.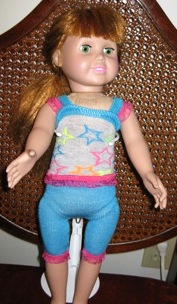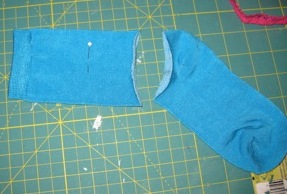 1. For the bottoms I started with a solid colour sock and cut it just above the heel.  I then pulled it on the doll to find out where the crotch level would be and marked it with a pin.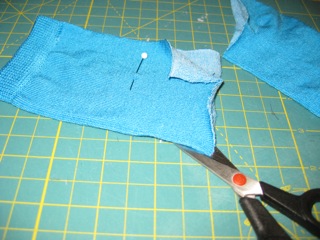 2. Next I cut up the two sides as far as the pin level.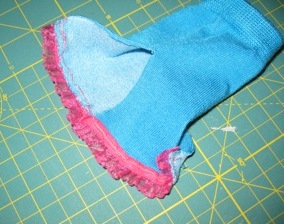 3. I then took some elastic that was edged with a ruffle and sewed a strip along the two bottom cut edges of the sock piece.
 NB.  You could also use Fold over elastic or use some stretch fabric such as Lycra to make a contrasting trim if you don't have the fancy frill elastic or Fold over elastic.  If the sock doesn't need to stretch to go over the doll's leg you could also use some lace.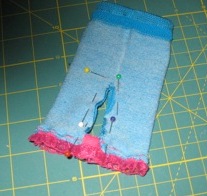 4. I turned the piece inside out and then pinned the inside leg portions.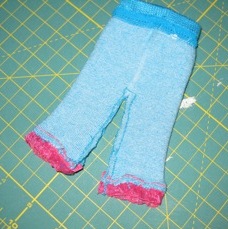 5. Next I sewed the leg seams with a stretch stitch or you could use a knit stitch or if your machine doesn't have either of these stitches, use a zigzag stitch.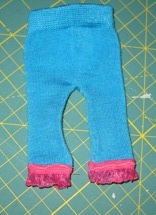 6. Turn pants to right side and voila!
Thanks so much Peggy for sharing your creative ideas with us, this is super cute and so easy!  I will share your tutorial on making the sweet summer top soon.
In the meantime if you are interested in learning how to make doll clothes the easy way then please check out my amazing doll clothes video course.
Happy Sewing
By Rosie Saw