Recently I received the following enquiry from Debra and after answering her questions, I realised there may be other people wondering the same thing so I'm sharing this information here and I've added some photos so that you can clearly see what I'm talking about. 
'I'm enrolled in your Learn to Love Your Serger/Overlocker course, but have a couple questions specific to my machine.
1.  I have a White Super Lock model 534. It does not have a way to lower the cutting blade. Should I just remove the blade altogether?
2. There is no differential feed dial. Is there another way to make this adjustment?
Thanks for any help!'
So let's start with Question one – The Cutting Blade
Lowering the cutting blade is a quick and easy way to sew around tight concave curves without the fear of cutting into the fabric with your cutting blade.  If your machine doesn't have the ability to easily lower the cutting blade and it is easy to remove and reinstate your blade, then yes by all means do so. However, using the following techniques, may allow you to sew around curves and corners without having to remove the blades.
If you have a tiny concave curve, make some clips inside the seam allowance around the curve.  This will allow you to pull the fabric straight as you are serging and therefore avoid the butting blade. When making your clips, it is important that you do not make these clips too long as you don't want to go beyond the stitching line.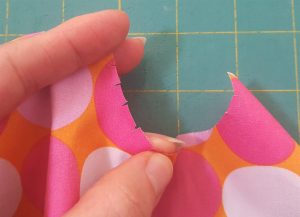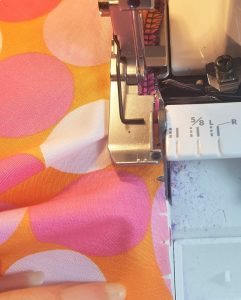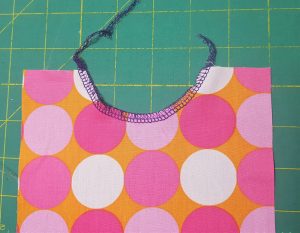 If you are wanting to serge around an 'inside' corner you simply make a clip at the very corner so that you can pull the fabric out straight as you serger, avoiding the cutting blade. Again, be careful not to make this clip too long as you don't want to go beyond the stitching line.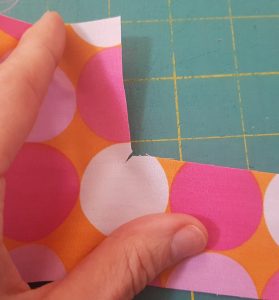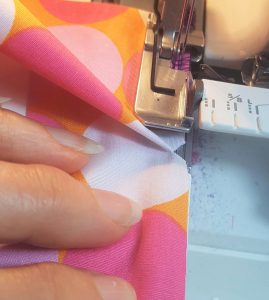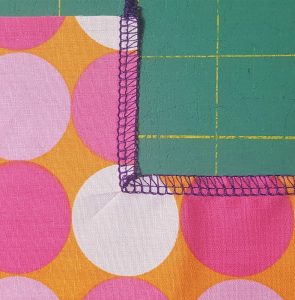 Let's now look at Question two – Serging (Overlocking) Without a Differential Feed Dial
A Differential Feed Dial allows you to adjust the rate that the feed dogs move in relation to the stitches.  It is often used to prevent fabric from being 'pulled in/gathered' or 'stretched' as you serge and this can happen with certain types of fabric.
If you are wanting to prevent fabric from stretching as you serge and you don't have a Differential Feed dial, using a water-soluble stabilizer such as 'Solvi' will work wonderfully.
I cut the Solvi in thin strips and lay it over the fabric as I stitch.  You then just wash the solvi away when finished.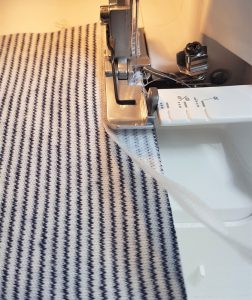 You can see the amazing difference this makes when working with a very stretchy fabric.
The top piece has been serged without Solvi and the bottom piece was stitched with a thin strip of Solvi placed on top of the fabric as it was serged.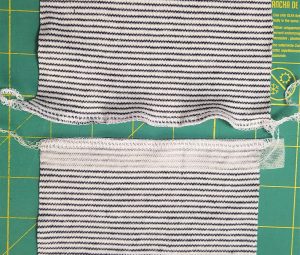 Do let me know if this information has been helpful and if you have any other tips that you use when you don't have a differential feed dial, I love to hear them.
Or if you'd like to learn lots more tips that will have you using your serger (overlocker) with confidence then my Learn to Love Your Serger online course will be perfect for you.