We'd love you to join in our monthly Sew-Along. This time our theme is "Happy Holidays Around The World".
Your fun challenge is to have a good time with creating whatever you want for the December holidays. The weather is different all over the world, so whether your doll is celebrating a Mele Kalikimaka in Hawaii wearing a sleeveless Summer Dress made up in a lovely candy cane fabric, doing Christmas at the North Pole dressed like Santa in a Funky Fur Jacket and Pants set, having a Happy Hanukkah on the West Coast of the USA in a Vintage Dress, enjoying a bright Kwanzaa in Chicago wearing a dress made of traditional African fabric, planning an Australian New Year's Eve extravaganza in a Gown, or getting cozy in Canada watching holiday movies at home in holiday print Pajamas or a Nightgown, as long as it's made from one of Rosie's patterns, or a clever combination of them, you do you!
Have a blast, make something you enjoy, and share it with us. Let us know what your doll is celebrating and where, and a little bit about how you conceived your creation. Every garment gets at least one entry. If it is specifically holiday themed, it gets two entries.
---
Join our Facebook Group
To participate in the Sew-Along, you must be a member of the Rosie's Doll Clothes Patterns Sew and Share group. Joining is easy. Just point your browser here, answer the membership questions, and request to join. It's a wonderful community of creative grown-ups who love to sew for dolls. Everyone will welcome you with open arms.
---
To be inclusive, absolutely anything and everything that you make with one of Rosie's Doll Clothes Patterns can be entered in the Sew-Along for one chance to be chosen by the Spinning Wheel. Yes, that even includes the free Beanie or free Sewing Machine Pin Cushion! Remember that there's a video for every Rosie's pattern, so watch, learn, sew along, and have fun sewing and sharing.
You can use the 18 inch American Girl Doll or Cabbage Patch Kid size patterns, or you can resize those patterns to fit any doll. If you wish to alter the pattern to add your own personal twist or add a special embellishment, please feel free. These personal touches create great inspiration for others!
There's no obligation to sew every month. You can sew one outfit or a dozen. It's totally up to you. Each item from a Rosie's pattern that you sew and post in the album (see instructions below) will be worth at least one entry towards the wheel spin at the end of the month. If you sew to the challenge specifications, you get two entries towards the wheel spin.
All skill levels are welcome to join in the fun as there will be no judgement, only encouragement.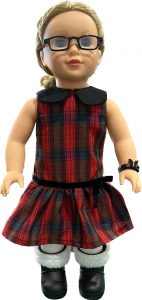 The winner of the November '22 Sew-Along Wheel Spin is Diana Ramos, who submitted this lovely Drop Waist Dress upcycled from a beloved blouse that her husband gave her as a gift years ago.