Since American Girl introduced their first boy doll, Logan, I have had countless enquires from people looking for boy doll clothes patterns and I have directed them to a number of my patterns that I consider to be 'unisex'. It just dawned on me that this information really needs to be available for everyone looking for boy doll clothes patterns for either their 18 ½ inch Cabbage Patch Kid or 18 inch and American Girl size dolls. 'Sew', in this blog I have outlined all of my patterns that can be used to make boy doll clothes and hope that some of them give you inspiration to get creative.
Ruth is a member of my Facebook Sew and Share group and the following is what said when she recently posted a photo of this awesome outfit.
"Fraser has just arrived and is headed off to the beach! His shirt is Rosie's Winter pyjama top, with turned up sleeves and a patch pocket. His shorts are Rosie's Capri pattern – I added 1cm to the width to make them baggier (ie insert 1cm down the middle of the pattern from waist to hem). I cut the length longer and just turned them up. I am really pleased with my cargo pockets, which I designed myself."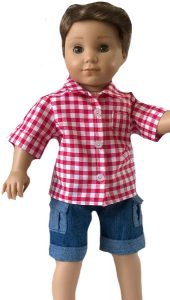 The following is a list of my Unisex patterns that can be made into boy clothes by simply choosing a masculine colour or print.
As well as making cute winter pajamas for your boy doll you can also use this pattern to make a long sleeve collared shirt and long pants.  Or by shortening the sleeves and pants you can easily create a smart short sleeve collared shirt and shorts.
Sports Shorts & T-shirt pattern
This combination can be used to create summer time shorts and t-shirt or summer pajamas.
Lengthen the sleeves a little and you have a winter dressing gown for your boy doll.
Use this pattern to make boardshorts, just add a little extra length and leave off the trim.
This idea came from Karen, who transformed my Witch Costume into a Wizard by simply not cutting the triangles out of the hem or the sleeves and altering the hat to have a rounded brim. Very clever!
As you can see, you don't need special 'boy patterns' to create a stylish wardrobe for your boy doll. By simply changing the fabric to a plain or masculine print you can create cool looking doll clothes for your boy doll using my patterns. And by shortening sleeves or pant legs, you've got even more great outfits.
I'd love to see photos of boy doll clothes that you have created from my patterns and I'd also love to hear from you if you come up with other ideas for making boy doll clothes from my patterns.