WAKE UP EVERYONE!  It's time to grab a bargain!
I've had so many people tell me how much they love my bedtime patterns, especially my Winter Pyjama and my Winter Nightie Patterns that I thought I'd give everyone the chance to own them.  'Sew', until the end of May, 2017 I'm selling all my bedtime patterns at 20% Off the Retail Price.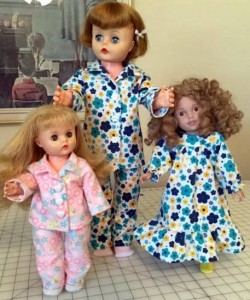 'Now all these dolls have their first winter night clothes. I'm having too much fun here! I love how easy Rosie makes altering her patterns to fit other sized dolls.
Thank you, Rosie!' – Teri VerHoeven
'Rosie's doll pajamas have always been my favorite.  Here is the pyjama top made into a blouse for summer.' – Ann Mellor